Newington Dental Care offers many orthodontic treatment options (straightening teeth and correcting bites).
Orthodontics
Dr. Keith utilises the IP appliance system (https://individualortho.com) utilising a comprehensive computer software, IP Soft, that gives an accurate detailed diagnosis and the provision of a fully customised orthodontic appliance (braces and plates) made especially to address the patient's needs. Orthodontic treatment is suitable for patients of different ages, contact us to see how it can help improve your smile.
Invisalign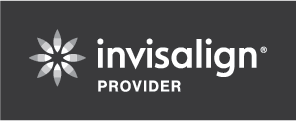 You'll never need metal brackets or wires with Invisalign. The smooth, custom-fitted trays guide your teeth into alignment in a way that's more comfortable than traditional orthodontic treatments.
Both adults and young patients can complete their Invisalign treatment at Newington Dental Care.
Myobrace
Early interceptive treatment with the Myobrace appliance (https://www.myobrace.com) can assist growing children with straightening teeth and bite correction, and can reduce the need for extensive orthodontic treatment with braces and jaw surgery.
Dr. Keith is a general dental practitioner who is passionate about the field of orthodontics, however a referral may also be made at your request or upon our recommendation to an orthodontic specialist (orthodontist) who will be able to provide orthodontic care for you.